Can you say "cleaning house"?
By Brian Distelberg

Gone are last year's defensive coordinator, QB/WR coach, FB/LB coach, secondary coach and equipment manager. You almost get the idea that Doug Kay wasn't very happy with his 2000 coaching staff.
If that's the case -- and signs would seem to point to it being the case -- Kay was well within his rights to be a little upset. Playcalling cost the Cobras several games in 2000, which hurts even more acutely when you finish only a game or two out of the playoffs.
Whoever was responsible for hiring this year's version of the Cobras coaching staff deserves kudos on several fronts.
On offense, Gerald Carr, last year's QB and WR coach, had coaching experience both at the college level and in the NFL. Unfortunately, he was coaching in the AFL, and his inexperience with the Arena game often showed. As head coach with the Augusta Stallions in 2000, Mike Neu was named af2 Coach of the Year after leading the Stallions to a 14-4 record and within one game of the ArenaCup. And before that, he served as quarterback coach and offensive coordinator for the Nashville Kats; he also has AFL playing experience at QB on his resume.
This means, in other words, that Kay, a defensively-minded coach, will have an experienced AFL hand calling the offensive plays and working with Fred McNair and company. That fact alone should give the Cobras at least one more win this season.
On defense, Lee Johnson was cut loose as coordinator after a year in which that half of the Cobras' game was hardly spectacular. Johnson had defensive coordinator experience in the CFL and playing experience in the NFL, CFL and AFL, but his replacement has even stronger credentials. Since Kay did not hire a coach to fill Johson's job, it's clear that Kay himself wants more personal control over the defense, which should be for the better. Kay has been the defensive coordinator on two ArenaBowl champions (Tampa Bay in 1993 and Arizona in 1997), and has, in all, six years of experience in that coaching capacity. As long as his attention isn't too distracted from the team as a whole, this move will have good results.
Looking to shoulder some of the position coaching load will be former Cobras OL/DL Emerson Martin, and Duke receivers coach Ken Matous. The hiring of Martin, who retired from playing to take the job, marks a good first step toward establishing a sense of continuity and loyalty on the coaching staff. Martin will be helped by his familiarity with many of the Cobras' players and by his playing experience at the NFL, NFL Europe and AFL levels. Matous, most recently the receivers coach at Duke, has a wealth of coaching experience that Bobby Houston, who filled the position last year, did not. Also, incidentally, the addition of Matous means that the Cobras now have a player or coach with ties to nearly every major college in the state: N.C. State, UNC, Duke, Appalachian, N.C. Central, Wake Forest, East Carolina and Western Carolina
Finally, tackling Houston's other role, strength coach, will be... drum roll please... CZ Forum regular Chris Hendley. He will obviously have a huge impact on the team's success, for, finally, the combined wisdom of CobraZone readers will be heard by the coaching staff -- well, by at least one member anyway. Seriously, best of luck to Chris.
The 2001 Cobras coaches seem to have something for everyone: a nod to AFL experience, a nod to Cobras players, a nod to local connections and a nod to us, CobraZone. Now, they'll need to put it all together into a big something for the fans -- a winning team.

THE BOTTOM LINE
---
Best move: Sorry, Chris, but this one has to go to the Neu guy at offensive coordinator (the headline writers, by the way, will have a ball with that name)
Worst move: Keeping Carr as long as the team did
Keep your eye on: Just how strong and conditioned will the Cobras be?
NEW FACES: MIKE NEU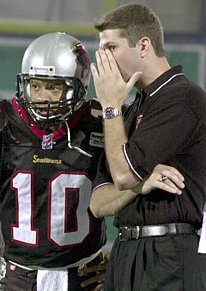 Augusta Chronicle/Chris Thelen

af2 Coach of the Year Mike Neu (seen here with Aaron Sparrow of the Augusta Stallions) joins the staff as Offensive Coordinator.
---
Coaches

In
Mike Neu (Off. Coord.), Ken Matous (FB/LB), Emerson Martin (OL/DL), Chris Hendley (strength/cond.),
Out
Gerald Carr (QB/WR), Bobby Houston (FB/LB), Lee Johnson (Def. Coord.), Bruce Plummer (Sec.)
Still Here
Doug Kay (head coach)
Rating: B+


What do you think?
Discuss the Cobras' coaching staff in the Rating the Roster thread of the CZ Forum.