McNair will be key in 2001
By Brian Distelberg

Fred McNair is back. The Cobras ensured this by quickly re-signing the star free agent, who reinvigorated the entire franchise when he was acquired from Florida mid-season in 2000. With McNair comes his 39 touchdowns, 1,958 yards passing and 112.94 QB rating, his pocket presence and AFL smarts. But securing McNair's return early in the free agency period also meant that the Cobras could devote their full attention to building the supporting cast he needs -- and not searching for his replacement.
That improved support could be the biggest factor in improvement from McNair himself this season. Additionally, he'll have an entire training camp to learn the Cobras system and work out the kinks, a luxury he didn't have last season when he was thrown into action and expected to work miracles.
The Cobras needed to keep an eye toward the future as well, though, because McNair won't be around forever. They did just that, signing rookie Brandon Streeter, an ex-Clemson Tiger, and veteran AFL backup Lance Funderburk, from Doug Kay's old stomping grounds in Arizona. Also inked was Wally Richardson, currently with the XFL's New York-New Jersey Hitmen.
Before Funderburk was signed, Kay seemed high on Streeter, telling the Gettysburg Times that "Brandon will be playing right away in the exhibition games." His plusses, as enumerated by Kay, are his size (6-2, 215), his quick release and his scrambling ability. Streeter's chief shortcoming is his history of injuries, including a broken collarbone and ankle.
Funderburk is the type of capable pro with AFL experience that can step into the number two job if Streeter takes time to develop. A two-year veteran, Funderburk got his first start for the Rattlers in a first round playoff game in 1999, and led Arizona to a win over Nashville. If nothing else, he'll be able to spend time teaching Streeter the intricacies of the indoor game while McNair and the coaching staff focus on preparing for the season.
While the addition of an af2 star at quarterback -- perhaps Augusta's Aaron Sparrow, who played last year under new offensive coordinator Mike Neu -- might have more ideal, the Cobras are better of with McNair, Streeter and Funderburk than they were mid-season in 2000 with McNair and Carlos Garay (who was not re-signed). And, certainly, the quality of the players at the quarterback position has improved dramatically since Jim Arellanes, Michael Thomas and Garay were on the roster to start last year.
Despite the improvement on the line and elsewhere, the Cobras' chances this season rest on the tattooed arm of McNair. You can't win in the AFL without a quarterback... and the Cobras won't go to the playoffs without Freddie Mac.

THE BOTTOM LINE
---
Best move: Making sure McNair will be calling the shots for the 2001 Cobras
Worst move: Not a big gripe, but an af2 quarterback would have had a shorter learning curve than Streeter faces
Keep your eye on: Who gets more preseason snaps: Funderburk or Streeter?
NEW FACES:
BRANDON STREETER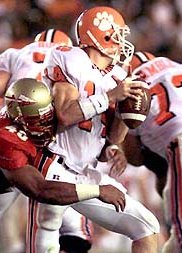 sptimes.com

Former Clemson QB Brandon Streeter will try to win a job as Fred McNair's backup.
---

QB

In
Brandon Streeter (rookie), Lance Funderburk (trade from Arizona)
Out
Carlos Garay (FA not re-signed)
Still Here
Fred McNair
Exempt
Wally Richardson (XFL)
Rating: A


Brian's Depth Chart

QB
1. Fred McNair
2. Lance Funderburk
3. Brandon Streeter


What do you think?
Discuss the Cobras' situation at QB in the Rating the Roster thread of the CZ Forum.