Hoping for special-er special-ists
By Brian Distelberg

In 2000, the Cobras' specialists weren't all that special. Offensive specialist saw a parade of starters -- Jack Jackson, Marlon Estes, Kevin Lee, Dexter Dawson, Antwaun Wyatt -- as injuries felled player after player. Defensive specialist was a revolving door as well until the second half of the season, when mid-stream signees Adrian Lunsford and Reggie Carthon finally helped create some semblance of stability. And at kicker, expansion draft pick Remy Hamilton had a wildly uneven year that ended with a final-second miss of a potential game-tying field goal against Tampa Bay.
Thus, the Cobras faced a two-fold mission this offseason: get healthy and get better. For the most part, they did both.
Back and favored to start at OS is Estes, the stellar speedster whose short season began when Jackson was traded and ended with a ruptured Achilles tendon. Brought in to compete with him was Derrick Steagall, a former Georgia Tech Yellow Jacket whose history of injuries in college does not bode well in light of the Cobras' "Curse of the OS." Steagall was red-shirted with a serious knee injury in 1996 and re-injured the knee before the 1997 season. He has good athletic ability and speed but suspect hands. Estes' job should be safe, and the Cobras need him back in top form so he can establish a rapport with Fred McNair during the preseason.
On the other side of the ball, the Cobras invested their one non-lineman free agent signing in the DS position, picking up Otis Mounds from Florida. The hard-hitting defender led the Bobcats with 14 pass breakups and was second on the team with 65 tackles. With Lunsford not re-signed and Dell McGee gone to the XFL, Mounds is a lock for one of the starting jobs. Battling Carthon for the other will be a pair of af2 veterans, Adrian Jones and Carlos Lockyn. Jones, a former N.C. Central star who played with the Greensboro Prowlers in 2000, would seem to have the inside track due to his defensive skills. He led the Prowlers with four interceptions last year, and also returns kickoffs. Lockyn is a versatile athlete -- he was Tennessee-Chattanooga's top rusher his senior season in college with 867 yards while also playing cornerback -- and could play at WR/DB instead.
At kicker, perhaps surprisingly, the Cobras kept Hamilton. But they gave him a stiff training camp challenge in the form of Josh McGee, who was considered one of the ACC's best kickers while at UNC. Many fans may be rooting for McGee to boot Hamilton out of a roster spot. Either way, the training camp battle will improve the kicking game -- but not as much as if the Cobras had gone after a reliable, AFL-experienced kicker in free agency.

THE BOTTOM LINE
---
Best move: Upgrading the defensive secondary with the addition of Mounds
Worst move: Steve Videtech and Bjorn Nittmo were free agent kickers who played at North Carolina colleges; one of the two should have been signed
Keep your eye on: Lockyn as an emergency replacement at FB/LB if Marrio Grier goes down?
NEW FACES:
DERRICK STEAGALL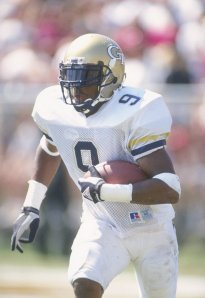 Allsport/Scott Halleran

Derrick Steagall's Georgia Tech career was marked by early success and injuries.
---

OS

In
Derrick Steagall (rookie)
Out
Dexter Dawson (back to WR/DB)
Still Here
Marlon Estes
Rating: B


DS

In
Otis Mounds (FA from Florida), Adrian Jones (af2), Carlos Lockyn (af2)
Out
Adrian Lunsford (FA not re-signed)
Still Here
Reggie Carthon
Exempt
Buddy Crutchfield (XFL), Terrel Sutton (XFL), Dell McGee (XFL)
Rating: B


K

In
Josh McGee (rookie)
Out
none
Still Here
Remy Hamilton
Rating: C


Brian's Depth Chart

OS
1. Marlon Estes
2. Derrick Steagall
DS
1. Otis Mounds
2. Reggie Carthon
3. Adrian Jones
K
1. Josh McGee
2. Remy Hamilton


What do you think?
Discuss the Cobras' situation at OS, DS and K in the Rating the Roster thread of the CZ Forum.