On second thought, I'll take a close one...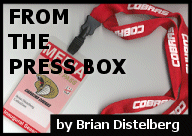 ---
Snake Bites
The Cobras will team with the Walter Payton Foundation next week to collect toys for Alliance for Children, founded by the late Bears runningback. The toys will be collected when fans enter the ESA and distributed to needy local children at Christmas time.
In the interest of keeping CZ readers the most informed fans in the league, I'll pass on this tidbit from a press handout: "If anything were to ever happen to kicker Remy Hamilton... the Cobras emergency kicker is backup quarterback Carlos Garay."
Rant of the Week: "Men in Black"? New Jersey has black uniforms, not Carolina. I also wonder about "Pretty Fly for a White Guy" after an African American player makes a big play.
Torry Holt, former N.C. State and current St. Louis Rams wide receiver, and Congressman Bob Etheridge were in attendance Friday.
---
7/14 - It may not have been their first win, or their first home victory, but it was a first: the Cobrasí first blowout triumph.
And it wasnít pretty. While the win was nice, I longed for Ė well, almost Ė games like Carolinaís nail-biting victory over Houston or their loss to Orlando, games undecided until the final play. Because what I saw from my perch atop the ESA on Friday was one bad team pound on a worse one, to the tune of a 77-47 thrashing of New Jersey.
As strange as it may sound, the Cobras should have scored more points. Two juicy opportunities in the first quarter resulted in only three points for Carolina. Then, a Dexter Dawson touchdown reception was followed by a missed extra point. The start of the second half saw drops, overthrown passes and penalties kill drives.
Hidden beneath the gaudy score was the fact that the Cobras didnít play all that well, except for the Herculean effort of a first half shutout. Both Fred McNair and Carlos Garay, who replaced him in the fourth quarter, held on to the ball too long and missed open receivers. The secondary, which played superbly in the first half, reverted to its season-long poor form in the second, probably from a mix of overconfidence and the play of reserves. The ground game did not get untracked, receivers dropped passes, and every other kickoff seemed to bring a penalty.
The Red Dogs werenít all there either. The Red Dogs were without offensive leader Michael Lewis, who signed with the Philadelphia Eagles, and defensive specialist Kevin Gaines, who was held out of the game with an abdominal strain. And nearly every snap was low or high, contributing directly to giveaways.
I donít want to take away from the Cobras win (well, maybe just a little). The secondary did play great in the first half. Remy Hamiltonís kickoffs were good, and so was the coverage, when there werenít penalties. Bobbie Cotten played his heart out before being injured, Antwaun Wyatt had probably his best game as a Cobra, Cornelius White and Dexter Dawson continued workman-like seasons and the defensive line put consistent pressure on Tommy Maddox and Rickey Foggie.
Fridayís game proved that an Arena Football blowout isnít quite as fun as we dreamed it would be, at least not from a fanís perspective. For players with incentive-laden contracts it may be a different story. And as ugly as it may have been, in a season where the Cobras have played pretty and lost so many times, they won. Last place is the domain of another team. The Cobras are, finally, on the rise.